Below is a message shared by Grandmaster Warren about the impact our World Class TKD scholarship program is making both here in the US and in South Korea at Grandmaster Park's alma mater: Sungkyunkwan University
Dear Mr. Warren,
This is Chan-ki Hong from SKKU Taekwondo Club. It's an honor to be awarded the Tae Park Taekwondo Scholarship. I really appreciate your support. Our big senior, Grandmaster Tae Park, told us your passion and devotion for Taekwondo. And I was very touched by your passion and dedication. Through this grateful scholarship, I will devote myself to my study and Taekwondo. Also I will practice love, respect and the spirit of the Taekwondo which are your core values. Thank you once again for your support.
Your sincerely, Chan-Ki Hong
(2019 SKKU Taekwondo Club Scholarship Recipient)
The Sign over the group tables:
Scholarship Award Ceremony for 2019 – General Meeting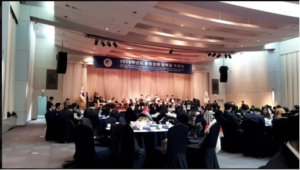 The sign behind the four students:
2019 General Meeting Scholarship Awards
2019.4.9. (Tue) -600 Anniversary Memorial Hall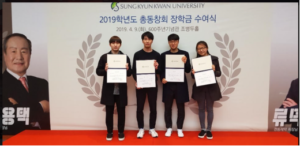 Note: This ceremony is for multiple scholarships. WCTKD gave three this year again.
Text on certificates:
Scholarship Certificate
Global Leader School Year 3: Hong Gee  |  Scholarship amount: 500,000 won
The above student has been selected as a World Taekwondo Association scholarship student in 2019 because of excellent academic achievement and student behavior.
World Taekwondo President Park  |  Sungkyunkwan University President Shin Dong